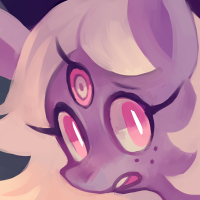 Species

Honeyed Moon Mare Demon

Pronoun

She/Her

Birthday

Drath 20

Astrological Sign

Monoceros

Affinity

Psi

Languages

Prattle, and some Common, Gnawth, Aurorian, and Citrican

Age

"Young maiden"

Place of origin

???

Current Location

Spoke City

First Appearance

Quirks

Loves verbal irony
Kind and graceful. Not traits innate to demons, sure, but she wasn't born one! Not much is known about her past as of this moment.
Has the ability to see fragments of the future.
Appearances
Orobas tagged along with Amdusias in order to mellow out her harsh edges, per Andre's orders. She enjoyed implying things that Amdusias wasn't able to understand, and was generally a pain in Amdusias's rear-end.
She convinced Beleth to go back to their house when they were scared off by Amdusias, and wished them well when they went off to the cafe.
Chapter 5
Orobas helped sound the advance alarm for an angel attack, and was part of the assault led by Amdusias. Together, she, Amdusias and Beleth drove the atrocity back to where it came from.
See Also