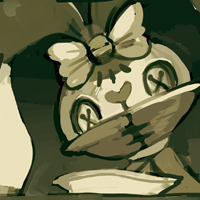 Species

Living Doll

Pronoun

They/Them

Birthday

Doth 25

Astrological Sign

Draco

Affinity

None

Languages

Common, some Prattle, some of this 'n that

Age

Who knows?

Place of origin

???

Current Location

Citrico Capital

First Appeared

Quirks

Dangerously unfunny
Sleta has been selling Equinox tickets for… hum. They can't remember. It's been a while, for certain. Their jokes are awful. Really awful. You probably can't even tell their jokes were meant to be jokes.
Appearances
Chapter 1
Sleta took great joy in informing Min and Cress that the pair was far too late to take a dragon to the Drop-Off. Sleta took even more joy when they told the pair that they would not be entitled to a refund.
Other Appearances