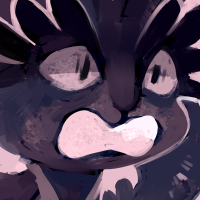 Species

Tube Wriggler

Pronoun

She/Her

Birthday

Raboth 29

Astrological Sign

Phoenix

Affinity

Water

Languages

Common, Coralish

Age

About on par with Cayenne

Place of origin

Polaris

Occupation

Forge assistant

Current Location

Lionel's forge, Polaris, Owel

First Appearance

Quirks

???
Friend of Diane. Both of them may act like jerks to Cayenne, but he probably (definitely) deserves it. As she's not very good at forging she runs various errands for Lionel instead, like moving superheated liquids.
Appearance
Chapter 4
She and Diane trapped Cayenne using the stolen lava ore as bait and brought him before Lionel. They both wanted to see Cayenne get his comeuppance, but their efforts were thwarted when Calliope arrived and presented false testimony, which freed Cayenne.
Other Appearances