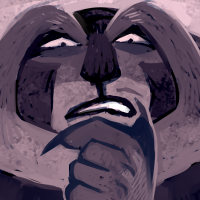 Species

Manticore Demon

Pronoun

He/Him

Birthday

Rath 9

Astrological Sign

Camelopardus

Affinity

Lava

Languages

Common, Prattle, Citrican

Age

Not old enough to have known Calliope when she was young

Current Location

Polaris, Citrico Islands

First Appeared

Quirks

???
Sole crafter of artifacts for the Templar. Quick-tempered, violent, and cranky. Doesn't get much sleep.
Appearance
Chapter 3
As Cayenne described the lava ore for Cress and Min, Lionel is mentioned to be the only one who knows where it is.
Chapter 4
After hearing a bogus story from Diane and Luisa, he decided to cut off Cayenne's dominant arm and fire him (in that order). After he was told of Cayenne's innocence, he instead sentenced Diane and Luisa to unpaid, mandatory overtime.
Other Appearances