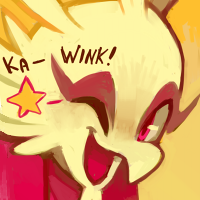 Species

Pronoun

He/Him

Age

Place of origin

???

Birthday

Goath 16

Astrological Sign

Lupus

Affinity

Fire

Languages

Common

Occupation

Conman/Salesman

Last Known Location

Polaris, Owel

First Appearance

Quirks

???
Larry leads his two little sisters, Pearly and Mo in conducting various scams. They're all banned from several small cities all throughout Owel. Hopes to one day make an honest living in Mew York.
Prefers strong mammalian bodies.
Appearances
Chapter 3
Cayenne and Calliope found the trio selling junk merchandise to Mossadillos in Polaris. Larry repelled Cayenne's attempts to put a stop to it, and had him booted out.
Other Appearances