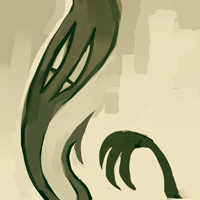 Species

Hooked Snake

Pronoun

He/Him

Birthday

Oxoth 25

Astrological Sign

Delphinus

Affinity

Light

Languages

Common, Citrican

Age

Older than you'd think

Place of origin

???

Current Location

At the coast near Citrico Islands

First Appeared

Quirks

Absent-minded
Holly lives a life of leisure. He's got no money, no food and no friends, which means he has nothing tying him down. It's idyllic.
Appearance
Chapter 1
When Min and Cress came to Holly, he demonstrated just how good he was at not being helpful. He wasted their time by explaining the ins and outs of the ferry transportation system, only to finally tell them that all of his ferries were out for repairs.
Other Appearances