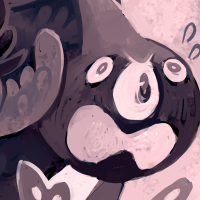 Species

Clown Fly (mix)

Pronoun

She/Her

Birthday

Horth 15

Astrological Sign

Corvus

Affinity

Fire

Languages

Common, Citrican, Chitter

Age

Not too much older than Luisa

Place of origin

Polaris

Occupation

"Delivery work to Hellside"

Current Location

Polaris

First Appearance

Quirks

???
Diane delivers Lionel's goods to Hellside. Is a total jerk to Cayenne, but he deserves it. Probably. After all, he did pull her wings off that one time.
Friend of Luisa.
Appearance
Chapter 4
She and Luisa trapped Cayenne using the stolen lava ore as bait and brought him before Lionel. They both wanted to see Cayenne get his comeuppance, but their efforts were thwarted when Calliope arrived and presented false testimony, which freed Cayenne.
Other Appearances