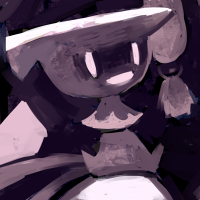 Species

Irondrop

Pronoun

She/Her

Age

Not too old to remember her previous life

Place of origin

???

Birthday

Raboth 5

Astrological Sign

Volans

Affinity

Earth

Language

Common, Citrican

Occupation

Being a magical anvil

Current Location

Lionel's forge, Polaris, Owel

First Appearance

Quirks

Likes to swear in Citrican
Ann lives a somewhat carefree life at Lionel's forge. He was extremely pleased with Ann's arrival - With her help, his output was doubled.
Friend of Calliope
Appearance
Chapter 3
Ann first appeared, unnamed, in Chapter 3 when Cayenne described to Cress and Min what he wanted.
Chapter 4
Ann was shocked by Cayenne's alleged theft of Lionel's property. Despite a lack of empathy towards the accused, she did not recommend death as their punishment.
She was visibly grieved by Calliope's decision to leave in the wake of Cayenne's incident.
Other Appearances
Notes
Irondrop is a type of Groundrop