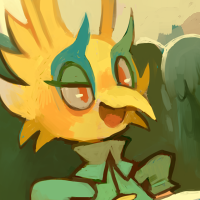 Species

Pronoun

She/Her

Age

Place of origin

???

Birthday

Raboth 11

Astrological Sign

Volans

Affinity

Crystal

Languages

Common

Occupation

Conwoman/Saleswoman

Last Known Location

Polaris, Owel

First Appearance

Quirks

???
Pearly is the youngest of the trio. She and her sister, Mo, consider Larry to be the leader of their group. She secretly dreams of opening a cheese shop.
She prefers bodies with wings, or with the ability to fly.
She makes the scarves for her group that allow them to possess bodies.
Appearance
Chapter 3
Cayenne and Calliope found the trio selling junk merchandise to Mossadillos in Polaris.
Pearly's job was to act as a shill, which convinced the audience that their merchandise was high-quality.
Other Appearances